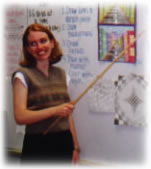 Welcome to mylessonplan.com
We are teachers' complete source of information for lesson and curriculum plan development. We provide useful links to web-sites that no educator can do without. These ideal sites can be found by accessing teacher links , lesson plans, and world of knowledge.
In our lesson plans section, educators can add their lesson plans to our database to share with others. We also feature links to the top lesson plan sites on the world wide web.